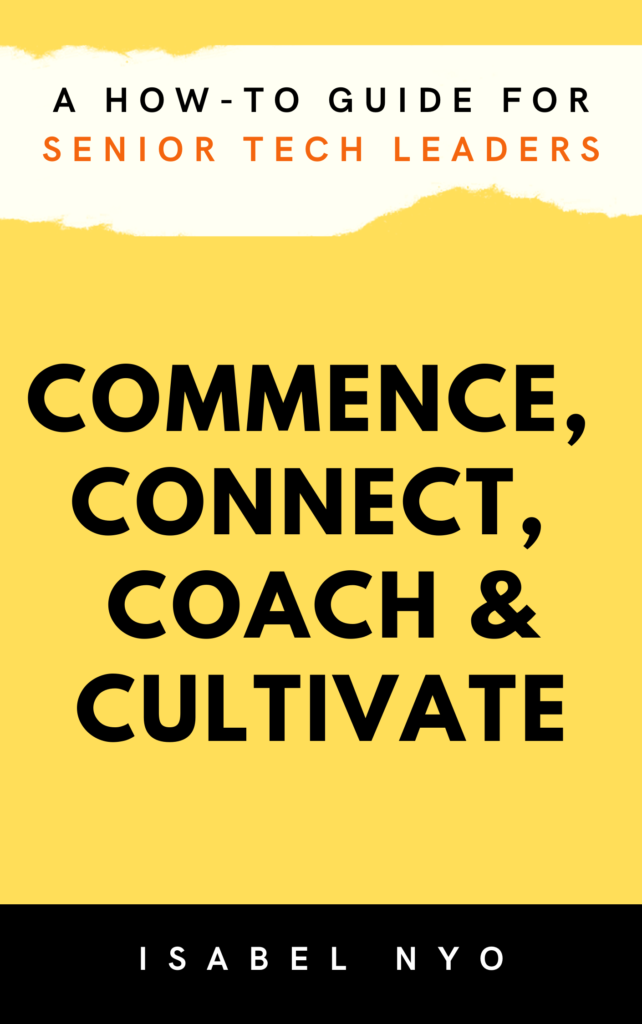 Part I: How to: Commence 
Whether you have decided to level up in your engineering management career or whether you are looking for a different environment where you can add value as a senior tech leader, Part I is for you. From how to create an effective resume that leads to productive interviews to how to stop your own self-sabotage that is limiting you from getting to your desired goal, you will find them in the five chapters in this section.
What are you waiting for? Let's get started!
How to Create an Effective Resume for a Senior Tech Leader role 
How to Demonstrate your Experience and Seniority at Interviews 
How to Decide What Kind of Company to Work for 
How to Reframe your Thinking and Overcome Imposter Syndrome 
How to Become a Chief Technology Officer (CTO)Â 
Part II: How to: Connect 
I really like the word "Connect". Such a versatile word. There are multiple types of connecting that a senior tech leader is required to perform in their role. Connecting the dots, Connecting the strategy to execution, Connecting with people, Connecting with the reality on the ground and last but not least, Connecting with their authentic self. 
Are you ready to connect? Let's do it!
How to Plan for Your First 90 Days at a New Senior Tech Leader Role 
How to Cut Through Noise and Focus on The Big Picture 
How to Stay Across Projects Without Being in the Weeds 
How to Adopt Agile in your Organization 
How to Communicate with Authenticity 
How to Reset your Brain and Boost your Productivity 
Part III: How to: Coach 
Quite often, the words coaching and mentoring are used interchangeably. Here, what I mean by coaching as senior tech leader is providing specific guidance to their direct reports to achieve high performance and in doing so, accelerate their career growth. I truly believe a leader can only do this effectively if they understand the needs and motivation of the individuals that they are coaching.
How might you coach effectively? Let me show you the ways.
How to Understand Different Types of Engineering Managers 
How to Elevate your Engineering Managers for Success 
How to Guide Career Goals Setting For Engineering Managers 
How to Help with Conquering Burnout and Eliminating Overwhelm 
How to Answer Commonly Asked Questions from Engineering Managers 
Part IV: How to: Cultivate 
Being intentional about creating an environment that enables everyone in your technology department or organization is the key to being an effective senior tech leader. "Move fast and break things" doesn't work when stakes are high such as company's brand, business performance, employee engagement, and diversity, equity and inclusion. 
Where do you begin? Let's begin with an end in mind. 
How to Create a Learning Culture in a Technology Organization 
How To Develop an Innovation Strategy for a Technology Organization
How to Scale A Technology Organization 
How to Take a Metrics-driven Approach for a Technology Organization 
How to Support Women in Tech by Creating an Inclusive Workplace 
How to Address Common Challenges Faced By Women In Tech 
Part V: Bonus 
I am so grateful to Jean Hsu, VP of Engineering, Range and Joel Beasley of Modern CTO Podcast for sharing their wisdom of being a senior tech leader. I've also included recommended books for senior tech leaders to read because deliberate and continuous learning is important to stay relevant and effective in the technology industry. 
When is the best time to learn? The answer is now!
Wise words from Jean Hsu, VP of Engineering, Range 
Wise words from Joel Beasley, Modern CTOÂ 
Useful resources