Key Takeaways from The Engineering Manager's How-To Guide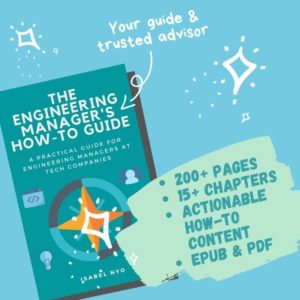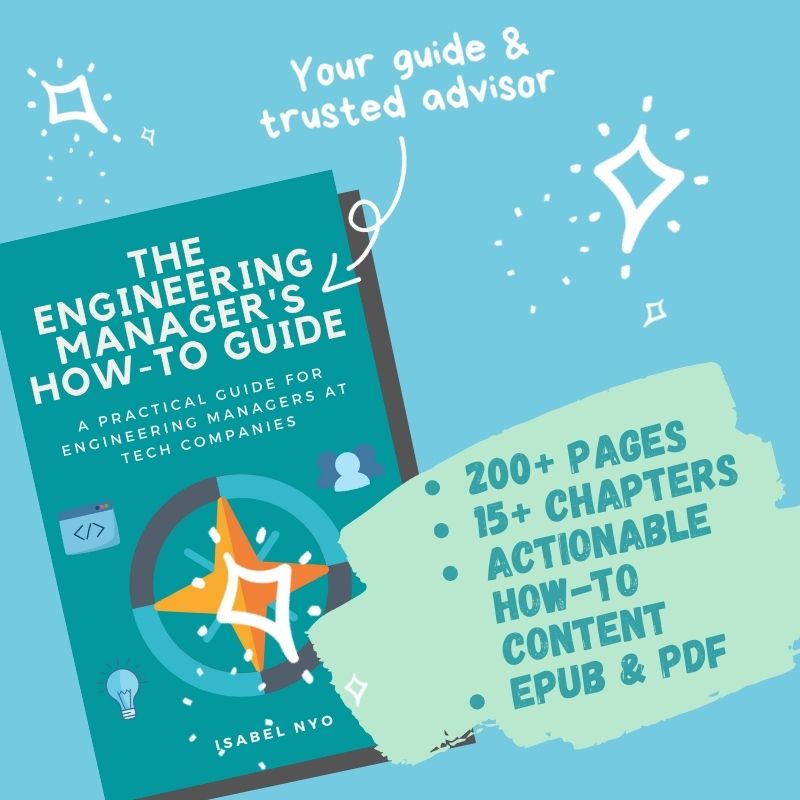 A practical guide for engineering managers at tech companies.
The Engineering Manager's How-To Guide is very targeted for engineering managers, and in this book, you won't find generic advice like having regular 1:1's, giving feedback, etc. Yes, those things are absolutely important, but they are not specific to an engineering manager's role. It's my goal to make sure this book provides a concise and actionable guide for engineering managers, the specific and niche content for engineering managers that you won't find in other leadership and management books.
Head over to Gumroad to purchase the book (in PDF and ePUB). Don't forget to subscribe to the newsletter to obtain a 10% off coupon code first.
Here are the key takeaways from each chapter in the book.
Chapter 1
How To Transition From A Software Engineer To An Engineering Manager

3 steps to take after you've made up your mind to step into a manager role

Build on the skills required for the managerial role.
Take on leadership and management related tasks voluntarily, eg: mentoring, facilitating meetings, project management, etc.
Let your manager know that you're interested in a managerial path.
Chapter 2
How To Recognise That You're Not Ready To Be An Engineering Manager Yet
Engineering management is a linear and alternate career track to software engineering.
Recognising that you're not ready yet is the first important step in becoming an effective engineering manager.
Because once you accept that you're not ready to be an engineering manager yet, you can identify the gaps in your skills, knowledge or behaviours, and work towards closing those gaps.
Chapter 3
How To Survive And Then Thrive  as A New Engineering Manager
Always remember that humans are not like computer programs. Every single person is unique with different motivations, aspirations, methods of engaging, and communication preferences.
You need to be comfortable with not being the technical subject matter expert as an engineering manager.
Practice makes perfect, and this applies in engineering management too. For example, the more you spend time with each engineer, the more you get better at understanding what makes them tick.
Chapter 4
How To Avoid Five Common Mistakes That Engineering Managers Make
Your success as an engineering manager depends on how each engineer in your team is growing in their career and how well your team delivers on their commitments.
You need to think bigger than your own domain and your individual expertise and skill set as soon as you become an engineering manager.
Chapter 5
How To Gain Ten Essential Skills That Engineering Managers Need
Engineering managers at technology companies need to have T-shaped skills.
As technology products become more sophisticated and complex, engineering managers with T-shaped skills are a razor that can cut through all the complexity and manage software development teams effectively at technology companies.
It is estimated that sixty percent of all new jobs in the twenty-first century will require skills that only twenty percent of the current workforce possesses.
The future of work has arrived for engineering managers. It is different from work we know previously and thus requires different mindsets and skills from engineering managers to be effective in their role.
Chapter 6
How To Understand Different Types Of Engineers
Being a manager is more often an art than a science because you're dealing with people.
New engineering managers often find themselves challenged by the fact that their people — programmers, software engineers, and developers — are nothing like the programming concepts they're familiar with.
A good engineering manager understands each engineer's type and adapts their approach in coaching to guide each person effectively.
Chapter 7
How To Create Growth Opportunities For Engineers
Investing in career growth is one of the most effective ways to keep engineers engaged.
It is a privilege for engineering managers to help their engineers grow and achieve great things.
Most engineers, especially those in their early career are not sure what they want, or worse, what is expected of them. Good engineering managers help engineers understand the expectations of their role and great engineering managers help engineers discover their career aspirations.
Chapter 8
How To Measure Performance Of Your Engineering Teams
Avoid using output instead of outcome to measure performance of your individual software engineers and avoid using any measures that promote individualism instead of teamwork.
When deciding what metrics to measure, start with the end goal that you want to achieve and work backwards from there.
The ultimate reason why you want to have metrics should be so you could improve on them. You can't improve what you don't measure.
Chapter 9
How To Watch Out For The Telltale Signs Of Disengaged Engineers
There is usually nothing more satisfying to software engineers than seeing their work live in production.
One disengaged team member could have a significant negative impact on the entire team and a decrease team morale.
A good engineering manager encourages and empowers their engineers to get out of their comfort zone so that the engineers can learn, grow and feel fulfilled in their work.
Chapter 10
How To Still Be A Maker When You're An Engineering Manager
Multitasking is an enemy of creativity and productivity.
Creativity doesn't happen in a vacuum. We need to constantly feed our mind and soul with new ideas, new ways of thinking and new information.
You can be a maker-manager if you priortise well and manage your time effectively.
Chapter 11
How To Scale Your Engineering Organisation For Growth
When scaling a tech startup for growth, don't jump straight into hiring the best and most talented software engineers you could find. There are a few things you need to take into consideration first such as roadmap, team and role structures, onboarding plan and success criteria.
More people don't always equal more results immediately.
Having a team of all senior engineers is not sustainable for an engineering organisation.
Your job of scaling an engineering organisation can only be considered done if and only if you know what the success criteria are and make a point to review your progress against the success criteria afterward.
Chapter 12
How To Build A Diverse And Inclusive Engineering Organisation
Building a diverse and inclusive organisation is hard work but it can be done.
Good intentions are not enough. There needs to be systematic changes to how an engineering organisation is structured and best practices in place to follow.
Focusing too much on hiring underrepresented people and getting them through the door, but failing to create an inclusive environment for them to thrive in is like trying to collect water with a leaky bucket.
Chapter 13
How To Foster A Culture Of Innovation
Great software engineers don't just want to build stuff; they want to feel inspired, they want to feel challenged and they want to feel empowered to solve problems worth solving.
For an innovation program to be effective, there needs to be a systematic approach in place.
Creating a culture of innovation requires effort from everyone in the organisation, from CEOs and founders to interns; not just engineering managers and engineers.
Chapter 14
How To Think And Act Like A CEO
The skills and competencies of an engineering manager are very relevant in running a business like a CEO.
Technical skills alone are not enough in succeeding in your engineering management career.
Nobody was born knowing how to be a CEO; with any skill in life, the ability to "Think and act like a CEO" is a learned skill.