Career growth is not an accident. It requires a deliberate act.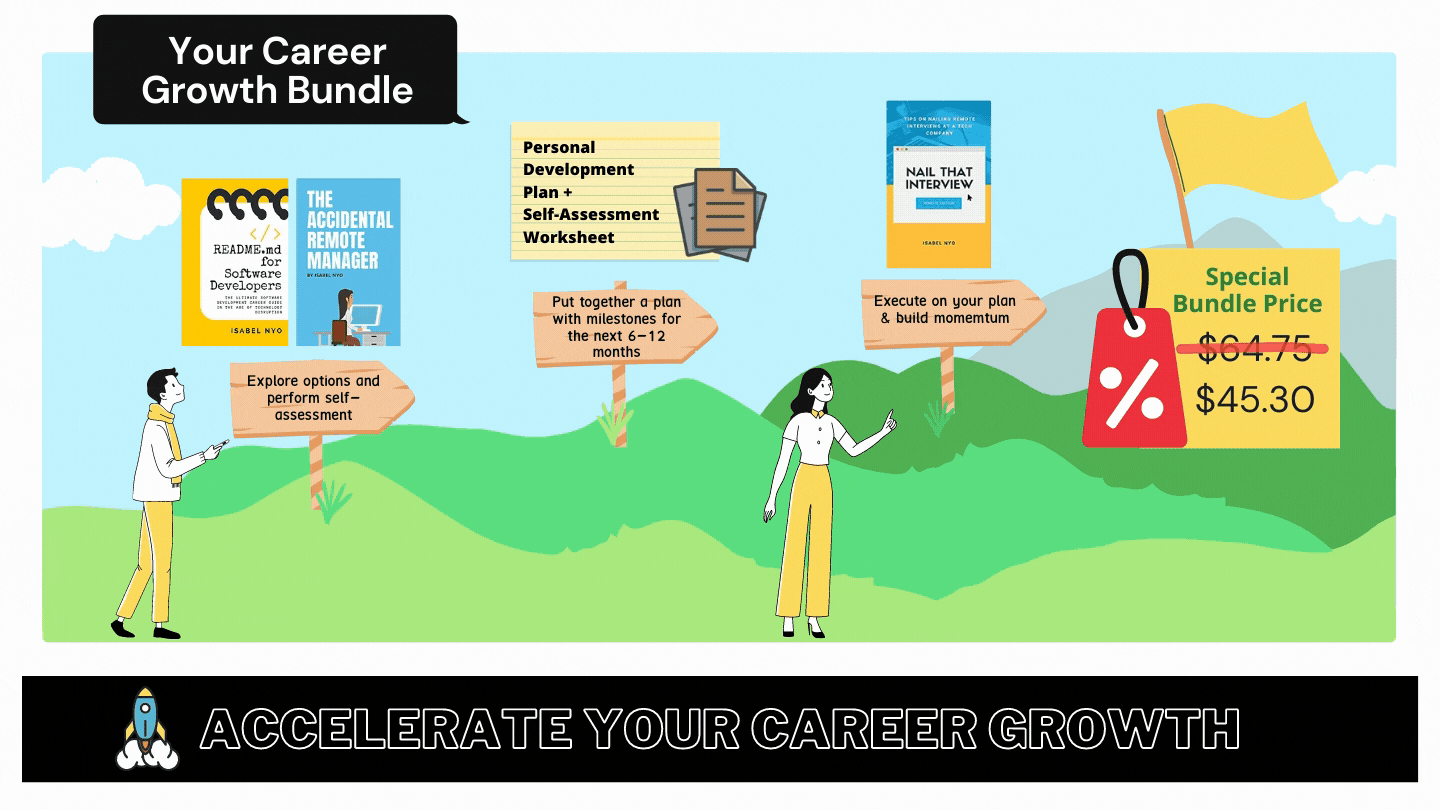 Hey there,
It's Thanksgiving week and I've been feeling grateful for what I have. Also with the pandemic, stress and burnout that many of you are experiencing, I truly want to help you, ambitious and driven professionals in tech, grow your career by having clarity on your goal and going after them with ease and momentum in the new year.
Here's a concise roadmap for your career success:
1️⃣ Explore options and understand what's possible
2️⃣ Perform self-assessment and put together a Personal Development Plan with milestones for the next 6 - 12 months
3️⃣ Execute on your plan and gain momentum
4️⃣ Smash your career goal!
To help you with your career journey, I've put together five resources as a bundle. Whether you're looking for a promotion, recognition, career change or employment, this career bundle contains all the tools and resources that you need to achieve your goal.
💻 README.md for Software Developers
Technology landscape has evolved and software is changing the world. Therefore, it's no wonder that the career path of software developers is very different now compared to a decade ago. In this book, I share practical advice and useful tips to help you succeed in the software development industry.
👩🏻‍💻 The Accidental Remote Manager
This book will enable you to understand and adapt the fundamentals of leadership that are critical to surviving the sudden transition to remote working.
📝 Self-Assessment Worksheet
This worksheet includes 10 questions that you need to answer to get clarity on where you are currently in your career and where you want to be.
✅ Personal Development Plan
Take the first step in taking control of your own career today by creating a personal development plan. Use this template to create an actionable plan by filling in sections about your personal analysis, your career objectives and your action plan.
🎉 Nail That Interview
Let's face it, interviewing is a skill. Having technical skills required for any role is important, but being able to present yourself in the best possible light and performing well at an interview is equally, if not more, important, in order to get a job offer. This book reveals all the techniques and strategies that you need to know to nail job interviews at a tech company.
The RRP is $64.75 if you were to purchase these resources separately from my Career Hub.
However, for this week, I am bundling all of them up and giving a whopping 30% discount, so you can get all of the resources in one transaction at $45.30. What a deal, right?
Hurry, because this deal only lasts this week. I can't wait to see you grow your career for 2021!
🚩
All my best,
Isabel