CTO Toolkit – Essential tools & resources for technology leaders
Designed for technology leaders by a seasoned technology leader.
This toolkit contains essential tools and resources for technology leaders.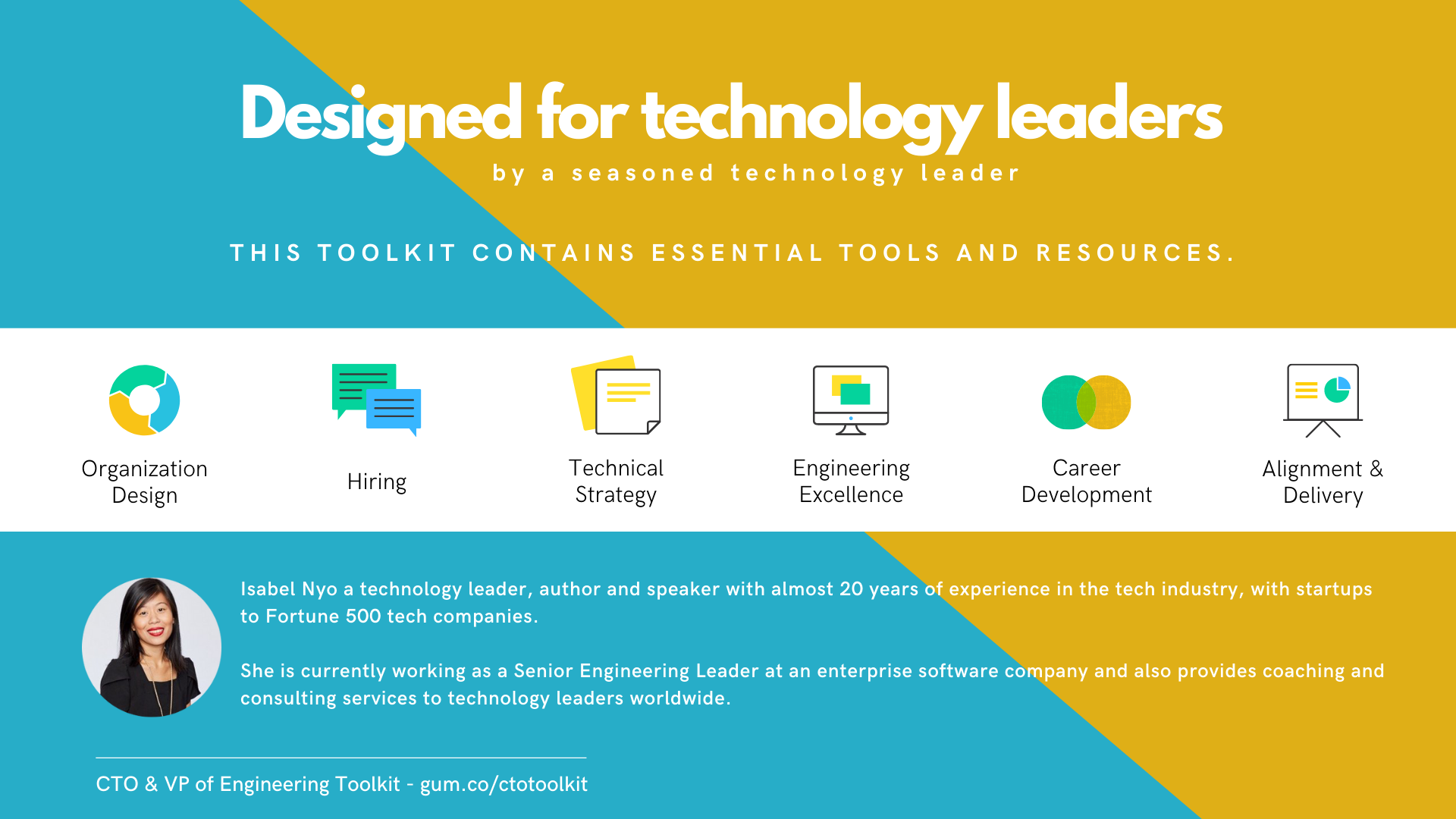 Purchase via Gumroad
What's included
1: Organization Design
Whether you are setting up a brand new engineering organisation or scaling one for growth, there are important factors to be taken into consideration.
A master checklist consisting of steps & recommendation
Resources from the industry experts
2: Hiring
Take a structure approach to hiring diverse talents with varying skill set, diversity, seniority with best practices for before, during and after an interview process.
Checklist for hiring process
Sample interview questions
Interview assessment template
3: Technology Strategy
Set a direction for the organisation's technology vision and create a document of assumptions, challenges, plans, goals and actions to implement the strategy.
Technology Strategy Template
Example Strategy Document
Resources from the industry experts
4: Engineering Excellence
Build a centre of excellence for engineering best practices and foster ongoing development and continuous improvement.
A master checklist consisting of steps & recommendation
Sample dashboard for DevOps metrics & operational health
Recommended Incident Management Process
Resources from the industry experts
5: Career Development
Design a career framework for engineers to set out expectation on technical competency and behaviours required at each level. Provide support & resources for engineers to drive their career growth.
A master checklist consisting of career development steps & recommendation
Career planning workshop deck
Personal development plan template
Sample personal development plan
Self-assessment worksheet
Career framework resources
6: Alignment & Delivery
Create alignment and accountability for your delivery teams. Maintain momentum by making progress visible and set up OKRs (Objectives & Key Results) to track and achieve business outcomes.
OKRs Spreadsheet Template
Sample OKRs for a software company
Resources from the industry experts
How useful is this Toolkit?
To give you an understanding its usefulness, I reviewed a number of job descriptions of CTO roles advertised by companies ranging from small startups to large public companies. I then evaluated the responsibilities against the content in the CTO Toolkit and highlighted how different modules in the Toolkit could be leveraged and applied in the CTO role.
Check out my review and assessment here.
Purchase via Gumroad
You may also like